OUR HISTORY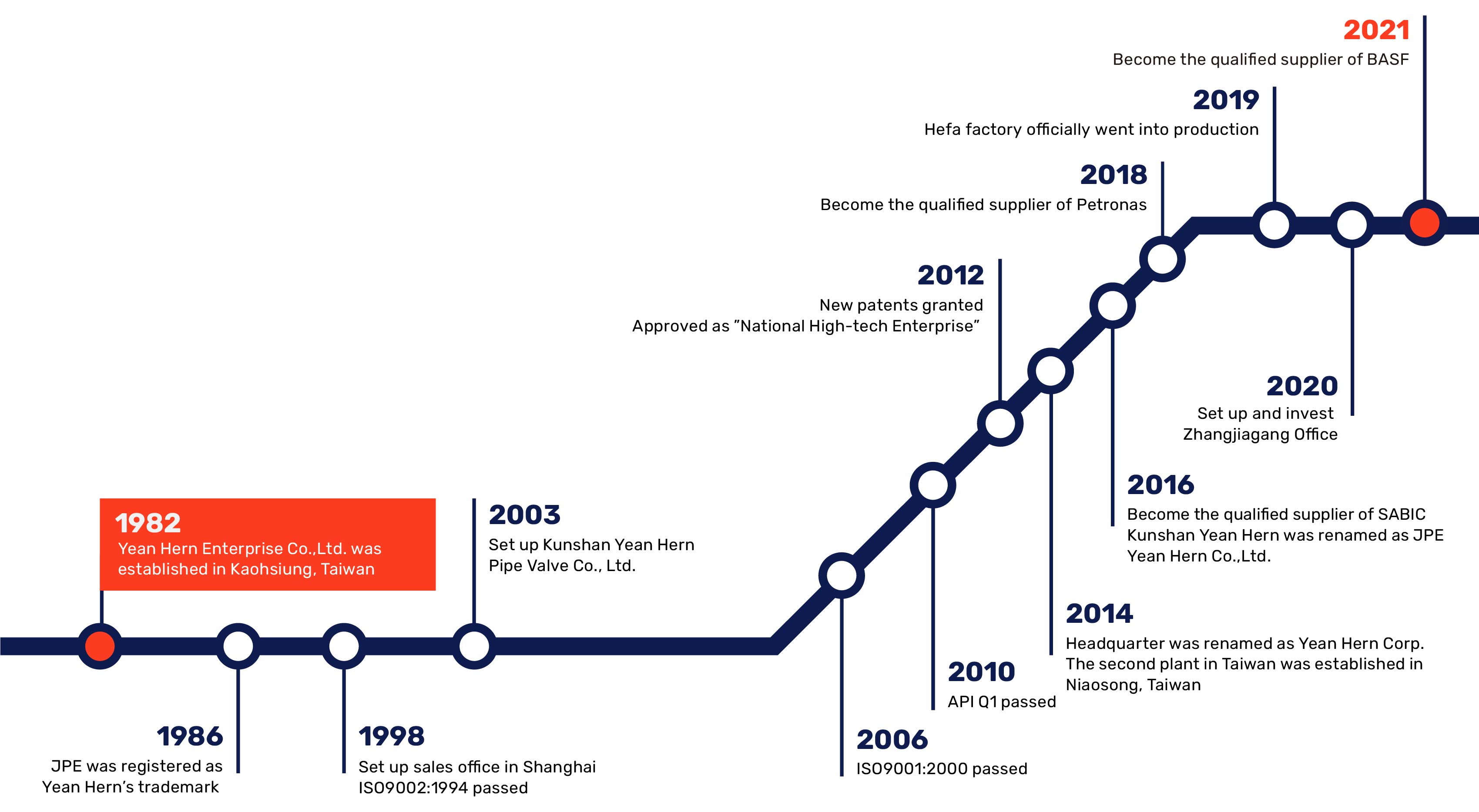 BUILT FOR DEDICATION
Yean Hern Corp.(JPE) was founded by Mr. Chih Hsin Tu in 1982 and has been dedicated to designing, researching and developing, innovating and manufacturing high quality fluid system products for nearly 40 years to remain the leading brand in the market.
JPE specializes in researching, developing, manufacturing and selling instrument tube fitting, pipe fitting, ball valve, needle valve, check valve, manifold, monoflange, gauge valve, regulator, quick coupling, hose, seamless stainless steel tube, hydraulic and pneumatic components. JPE headquarter is located in Kaohsiung, with two manufacturing plants in Kaohsiung and Kunshan, meanwhile, a subsidiary is situated in Zhangjiagang.

In order to provide customers with high-quality products and services, both plants are equipped with advanced equipment like CNC lathe, vertical machining centers, robotic arm, ultrasonic cleaning machine, clean room, besides, numbers of inspection equipment like helium leak detector, spectrometer, etc. are provided as well.
Over 60% of products are exported to our worldwide business partners. For example, America, Europe, Middle East, New Zealand, Australia, and Greater Asia, etc., CNPC, CPCC, Hengli, TNTCC, CIMC Enric, SINOSTEEL, Taipower, CPC Corp., FPG, CTCI Corp., and CCPG are our main customers for a long time.

Meanwhile, we are on the approved vendor list of TSMC, AP, SABIC, Petronas Wilhelmsen Ships Service AS as well.
QUALITY FIRST
Under our guidelines of "Complete System", "Scientific Management", "High-Quality Product" and "Customer Satisfaction", JPE has successively certified by ISO 9001, API Q1, ISO 14001 and ISO 45001, etc. Besides, we also obtained several patents in recent years, allowing us to earn the trust and loyalty of JPE products from customers.

JPE uses the latest manufacturing technologies and advanced equipment, implements a strict management system for all operational processes and controls, and builds the product traceability system to provide the highest quality products for our customers. With persistence and effort, we' ve become one of the leading enterprises of instrument valves and fittings.

We provide services of assembly, training, consultation, repair, and supply of JPE products or OEM products, etc. We are always here to provide you with high-quality products and excellent services.